Translate this page into:

doi:
10.25259/ASJO-2022-27-(371)
Pathophysiology and management of hypercalcemia in malignancy
1
Department of Internal Medicine, Universitas Indonesia, Cipto Mangunkusumo Hospital

,

Jakarta

,

Indonesia
2
Hematology-Medical Oncology Division, Department of Internal Medicine, Faculty of Medicine Universitas Indonesia, Cipto Mangunkusumo Hospital

,

Jakarta

,

Indonesia
Corresponding author: Dr. Rahmat Cahyanur, MD, Hematology-Medical Oncology Division, Department of Internal Medicine, Faculty of Medicine Universitas Indonesia, Cipto Mangunkusumo Hospital, Jakarta, Indonesia. rahmat.cahyanur01@ui.ac.id
Received: , Accepted: ,
© 2023 Published by Scientific Scholar on behalf of Asian Journal of Oncology
Licence
This is an open-access article distributed under the terms of the Creative Commons Attribution-Non Commercial-Share Alike 4.0 License, which allows others to remix, transform, and build upon the work non-commercially, as long as the author is credited and the new creations are licensed under the identical terms.
How to cite this article: Yunita B, Cahyanur R. Pathophysiology and management of hypercalcemia in malignancy. Asian J Oncol, 2023;9:12.
Abstract
Hypercalcemia is a complication that is often found in patients with malignancy, both blood malignancy and solid tumor malignancy, with a prevalence that can reach 30%. Hypercalcemia caused by malignant conditions is usually characterized by severe clinical manifestations, severe degree, and rapid onset. Hypercalcemia is also one of the markers of poor prognosis in patients with malignancy, often a sign that a malignant condition is in the late stages or is refractory to the treatment given. Management of hypercalcemia in malignancy is based on the underlying pathophysiology. The main pathophysiology is due to humoral hypercalcemia, local osteolytic metastases, increased extrarenal calcitriol, and primary or ectopic PTH secretion. Based on this condition, an understanding of the pathophysiology, clinical manifestations, diagnostic approach, and management of hypercalcemia in malignancy needs to be studied further.
Keywords
Hypercalcemia
Malignancy
Management
Pathophysiology
INTRODUCTION
Hypercalcemia is an electrolyte imbalance with many causes, the most common being primary hyperparathyroidism and malignancies (80–90%). Primary hyperparathyroidism (60%) is the leading cause of hypercalcemia in an outpatient setting, whereas, in the inpatient setting, malignancies are the most common cause (54–65%). Hypercalcemia is defined as an increase in serum calcium of >10.5 mg/dl or >2.5 mmol/l.[1] Among all malignancies, hypercalcemia is reported to have an incidence of 20–30%. Tumor progressiveness correlates with an increased risk of hypercalcemia. In malignancies in which bone metastases have occurred, hypercalcemia has a much higher incidence and is accompanied by skeletal complications (skeletal-related events, SRE).[2] Hypercalcemia occurs most frequently in patients with lung cancer, multiple myeloma, renal cell carcinoma, head and neck squamous cell carcinoma, followed by breast cancer, colorectal cancer, and prostate cancer with the lowest incidence.[2–4]
Hypercalcemia caused by malignancies is mediated through a few mechanisms that could be distinctive in each type of cancer.[2,4] In severe or acute conditions, hypercalcemia could cause severe and life-threatening symptoms. Clinical manifestations that could occur include nausea, vomiting, fatigue, abdominal tenderness, polyuria, a decrease in consciousness, arrhythmias, volume depletion, and renal vasoconstriction.[1]
According to a survival study on solid tumors, it is reported that the median overall survival among patients with hypercalcemia is 40 days (95% CI 33–47). However, this survival rate increased in those undergoing chemotherapy (HR 0.24; 95% CI 0.14–0.4; p < 0.001).[5,6] Although some treatments were effective, hypercalcemia is still indicative of poor outcomes in malignancies, especially in the advanced stage or refractory cancer.[7–9] Appropriate treatment of hypercalcemia increases quality of life, decreases morbidity, and provides a fair chance of success for definitive treatment.[10] Due to its high prevalence among tumor patients and its life-threatening clinical manifestations, the pathophysiology, evaluation, and treatments of hypercalcemia in malignancies must be further investigated.
Epidemiology and risk factors
Hypercalcemia prevalence in malignancies reaches 20–30% and increases in patients with metastasis. In early-stage cancers, the prevalence of hypercalcemia is relatively low (1–5%).[7] Hypercalcemia is most prevalent in patients with lung cancer, followed by multiple myeloma, renal cell carcinoma, head and neck squamous cell cancer, and least prevalent in breast, colorectal, and prostate cancer in decreasing order.[2–4] Similar to these studies, another research in the United States showed that patients with multiple myeloma have the highest hypercalcemia incidence (7.5–10.2%).[3]
In another study that looked into solid tumors among 306 subjects, the highest prevalence of hypercalcemia was in squamous cell carcinoma (62%) and primary tumor of the head and neck region (28%). The median overall survival of hypercalcemia in malignancies was 40 days (95% CI 33–47). Several factors were associated with a worse prognosis, such as a decrease in consciousness, performance status of >2, albumin <2.5 g/dl, C-reactive protein (CRP) > 30 mg/dl, or a body mass index (BMI) < 18 kg/m2.[5] Another study investigating the overall survival of patients with hypercalcemia, regardless of the underlying disease, has found a 9.9% mortality in ICU patients and 21.3% mortality in overall hospitalization.[6] O'Callaghan et al. reported that after hypercalcemia diagnosis was confirmed in tumor patients, 50% of them died after 30 days on average, and 75% died within 3 months after.[10] These various studies have found that hypercalcemia in malignancies is a marker for poor prognosis, that is, advanced stage or refractory cancer.[7–9]
There has not been much research in Indonesia that looks into hypercalcemia as a complication from malignancy. A study of hypercalcemia in 40 subjects, 22 of whom had hematological malignancies and 18 of whom had solid tumors, was conducted by Wijaya et al. in Hasan Sadikin Hospital in Bandung. The symptoms observed were dehydration (18 subjects), nausea and vomiting (6 subjects), constipation (6 subjects), and decrease of consciousness (4 subjects), while the rest of the subjects were asymptomatic. The study concluded that bisphosphonate administration was beneficial in lowering calcium ions compared to no treatment (0.59; 95% CI 0.01–1.17; p = 0.0001).[11]
Calcium homeostasis
Calcium is a micronutrient that plays a role in biochemical reactions inside our body, including coagulation, bone formation, and muscle contraction. It is collected through intestinal absorption, albeit only 10–20% of them are absorbed while the rest will be secreted in feces. Calcium is then stored in one of two compartments; in bones as hydroxyapatite salt and in plasma as either free calcium ion (45%) or calcium, which binds to carriers (65%), most of which is albumin, followed by phosphate, sulfate, and citric acid.[8] In normal adults, daily calcium levels are maintained in balance. In bones, 280 mg of 1000 g of calcium stored will undergo a turnover, while the other 1000 mg is in circulation.[12,13]
Calcium homeostasis involves a variety of hormones and electrolyte levels, such as calcitonin, 1,25 (OH)2D, parathyroid hormone (PTH), and phosphate and calcium levels. The parathyroid hormone produced by the parathyroid gland will be activated in low calcium levels, that is, <10 mg/dl, due to the stimulation of calcium-sensing cells. Parathyroid hormone production peaks at calcium levels <7.5 mg/dl.[8] Parathyroid hormone helps increase serum calcium levels and decrease phosphate by inducing bone resorption by osteoclast. Besides that, PTH also enhances calcium reabsorption in the Henle loop and distal convoluted tubule of the kidney while decreasing phosphate absorption. Parathyroid hormone also plays a role in the conversion of 25(OH)D (calcidiol) into 1,25(OH) 2D (calcitriol) in the kidney, which is mediated by 1-α-hydroxylase produced in the proximal tubule.[2,8]
Vitamin D also plays a crucial role in calcium metabolism. Vitamin D metabolism starts from its synthetic source in the skin as 7-dehydrocalciferol, converted by ultraviolet (UV) rays to cholecalciferol (vitamin D3). Cholecalciferol then undergoes hydroxylation in the liver at position 25 to 25(OH) D (calcidiol), which is further converted into calcitriol. As the final product, calcitriol is responsible for increasing the absorption of phosphate and calcium in the intestines. After that, calcitriol is deactivated by the enzyme 24,25-hydroxylase in the kidney.[8,12] On the other hand, when serum calcium levels are high, calcitonin, a hormone produced by the thyroid parafollicular C cells, is secreted. Calcitonin will, in turn, decrease the calcium and phosphate absorption in the kidney, as well as decrease bone resorption.[2,8]
The normal calcium metabolism in the bone involves two types of cells: osteoblast and osteoclast. Osteoblasts are cells derived from mesenchymal transformation, whereas osteoclasts are derived from monocytes migrating from the circulation into the bone. Osteoclast precursor cells have receptor activators of nuclear factor-κ B (RANK), whereas osteoblast secreted its ligand, receptor activator of nuclear factor-κ B ligand (RANKL). The binding between these two, RANK and RANKL, will stimulate osteoclast maturation. Only then could the osteoclast perform its duty of releasing calcium from the bone by bone resorption.[8]
Pathophysiology of hypercalcemia in malignancy
In general, hypercalcemia is caused by bone formation and degradation disturbance. In these processes, two cells play a crucial role; osteoblast, which is responsible for bone formation, and osteoclast, which stimulates bone resorption. Under normal conditions, the action of osteoclast is regulated by the binding between the RANK receptor on osteoclast with its ligand, RANKL, on osteoblast, which causes osteoclastogenesis. This binding between RANK and RANKL could be inhibited by osteoprotegerin secreted by osteoblast, thereby halting the maturation of osteoclast. 2
In malignancies, hypercalcemia arises through several mechanisms:[2,4]
Parathyroid hormone-related peptide (PTHrP) secretion causes humoral hypercalcemia.

Local osteolytic metastasis inducing cytokine release.

Excessive production of 1,25(OH)2D (calcitriol) by the tumor.
Table 1 explains the pathophysiology of hypercalcemia in malignancies and which cancer causes it.[4]
| Clinical Manifestations | Mild (10.5–11.9) | Moderate (12–14) | Severe (>14) |
| --- | --- | --- | --- |
| Cardiovascular | Shortening QT interval, ST segment depression, prolonged PR interval | Shortening QT interval, ST segment depression, prolonged PR interval | Arrhythmia, ventricular tachycardia, ventricular fibrillation, cardiac arrest |
| Gastrointestinal | Constipation, loss of appetite | Nausea, vomit, loss of weight | Acute pancreatitis, peptic ulcer |
| Renal | Polyuria | Dehydration | Acute kidney injury |
| Neuropsychiatry | Depression, anxious | Hypo reflex, loss of consciousness | Lethargy, stupor, comma |
| Musculoskeletal | | Weakness | Weakness |
Clinical manifestations and classification of hypercalcemia
According to serum calcium levels, hypercalcemia is classified into:
Mild hypercalcemia: serum calcium level < 12 mg/dl, can be asymptomatic or with mild symptoms such as constipation

Moderate hypercalcemia: serum calcium level 12–14 mg/dl
The clinical manifestation of hypercalcemia is varied, from asymptomatic, mild symptoms like nausea, vomiting, fatigue, abdominal pain, and polyuria to severe symptoms such as decreased consciousness, arrhythmia, volume depletion, and renal function vasoconstriction that can cause acute kidney failure and nephrogenic diabetes insipidus.[1] Clinical manifestation usually occurs when calcium level rises rapidly or is exceedingly high.[8,9] However, hypercalcemia with characteristics such as those is commonly happening in patients with malignancies, thus making cancer patients more prone to more severe symptoms.[8] If categorized according to the organ system involved, hypercalcemia manifestations could be classified into:[6-9,12,20]
Diagnostic approach to hypercalcemia
Hypercalcemia is diagnosed based on a laboratory exam that detects high calcium levels. In blood, calcium is present as blood calcium and calcium ions. These two parameters can be used to diagnose hypercalcemia, although both have their limitations. Blood calcium is an inactive form that binds to albumin, and thereby, its levels are closely dependent on albumin levels.[2,8] For example, in patients with malnutrition with protein-energy wasting, blood calcium can be low as the albumin level is also low. On the other hand, patients with severe dehydration could present with high calcium levels because of high albumin levels.[8] Below are the formula to calculate blood calcium levels based on albumin level in the blood:[2]
Meanwhile, the calcium ion levels in the blood, which is the active form, can be directly interpreted to diagnose hypercalcemia, unlike blood calcium levels that need correction. However, its concentration depends on blood pH. A decrease in blood pH could increase ion calcium levels.[2] Hence, the use of ion calcium is more recommended as the basis for hypercalcemia diagnosis.[8] Laboratory calcium examinations are suggested to be repeated for confirmation before finding the cause of hypercalcemia. Nevertheless, the need for this confirmation does not hinder prompt initial management with fluid expansion.[4,8]
In patients having severe hypercalcemia for the first time, malignancies should be firstly considered as the cause. Therefore, questions such as a history of tumors in the family, exposure to carcinogenic agents, smoking history, drinking history, UV exposure, weight loss, chronic cough, and presence of mass or lump must be included in the history taking. Besides that, a thorough physical examination (including looking for the presence of mass like lymph node enlargement, breast examination, digital rectal examination, or other examinations in other parts of the body) must be performed.[8,12] In investigating the cause of hypercalcemia, laboratory examinations that should be ordered are the levels of phosphate, PTH or PTHrP, 25(OH)D and 1,25(OH)2D, calcium, 24-hour urine creatinine, and kidney functions through serum creatinine and glomerulus filtration rate.[2] Table 2 shows the list of laboratory parameters that are recommended to be ordered based on the cause of hypercalcemia on malignancies.[7]
| Parameter | Humoral hypercalcemia | Local osteolytic metastasis | Increase in calcitriol |
| --- | --- | --- | --- |
| Calcium | High | High | High |
| Phosphate | Low | High | High |
| PTH | Low | Low | Low |
| 25(OH)D | Low-High | Low-high | Low or normal |
| 1,25(OH)2D | Low or normal | Low or normal | High |
| PTHrP | High | Low | Low |
Generally, the first value that could be checked in hypercalcemia patients is intact PTH examination. If the number is high, hyperparathyroidism should be considered for the working diagnosis. If the number is normal or slightly high, a diagnosis of primary hyperparathyroidism or familial hypocalciuric hypercalcemia (FHH) could be considered. Subsequently, a series of examinations can be done, including PTHrP, calcitriol, calcidiol, and protein electrophoresis.[1,4] Patients suspected of having FHH are recommended to undergo CaSR genetic evaluation and family history taking.[1] Urine calcium and 24-hour urine creatinine are also beneficial for patients with suspicion of FHH.[12] Other genes that play a role in FHH include CaSR, AP2S1, and GNA11.[2] Algorithm for evaluating the cause of hypercalcemia is explained in [Figure 1].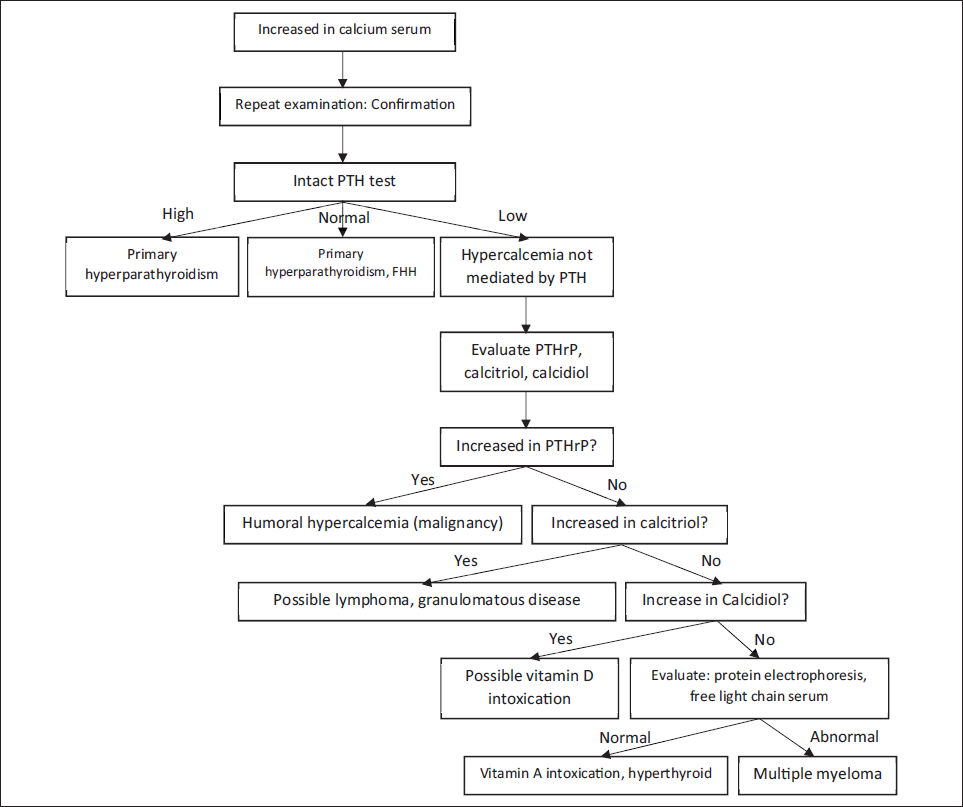 Management
Hypercalcemia in malignancies is one of the oncology emergencies.[8,12] The decision to initiate management depends on the severity of clinical manifestations or the degree of hypercalcemia. For example, patients with severe signs such as decreased consciousness or extremely low calcium levels (<14 mg/dl) call for swift and more aggressive management. Below are the approaches for hypercalcemia management based on their degree:[19]
Mild hypercalcemia. In this early type of hypercalcemia, prompt management is not yet needed. Management is instead focused on avoiding factors that can further increase the patient's blood calcium levels, such as lithium, thiazide diuretics, or a high-calcium diet (>1000 mg/day). Patients are advised to increase fluid intake (6–8 glasses per day) and engage in physical activities. In this condition, another goal is to find the cause of hypercalcemia.[9,19] Prevention for hypophosphatemia should also be done, for instance, with oral supplementation of phosphate.[12]

Moderate hypercalcemia. Generally, the approach is similar to that of mild hypercalcemia. However, more attentive care should be placed on the possibility of a sudden increase in calcium levels as this needs more aggressive management, just like in severe hypercalcemia.

Severe hypercalcemia. The most advanced form of hypercalcemia requires an aggressive treatment by administering isotonic saline solution, calcitonin, zoledronic acid, pamidronate, or denosumab. Hydration with saline solution and calcitonin will decrease the calcium levels acutely for around 12–48 hours. Afterward, bisphosphonate administration will provide a long-term lowering effect on calcium levels (2–4 days after).[19]
The management approach to hypercalcemia is made in steps, first targeting the root cause of hypercalcemia, increasing calciuresis, decreasing bone resorption of calcium, lowering intestinal calcium absorption, and finally lowering PTH levels. Furthermore, the management of the malignancies themselves, which is why hypercalcemia occurs in the first place, is also the goal.[2,9,20,21] This theory is in line with the study conducted by Ramos et al. that observed a survival improvement in solid tumor patients with hypercalcemia receiving chemotherapy compared to those not receiving chemotherapy (HR 0,24; 95% CI 0,14–0,4; p < 0,001).[5] Nevertheless, considering that hypercalcemia is a marker that indicates the presence of already advanced or refractory malignancies, a collaborative treatment involving a multidisciplinary palliative team can already be planned after the acute conditions have been remedied.[8,12] A few other strategies that can be done palliatively are debulking surgery to control the symptoms, radiofrequency ablation, liver embolization, cryoablation, or external beam radiotherapy (EBRT).[12,20]
The use of certain drugs that can increase serum calcium levels should also be stopped, for instance, supplementation of calcium or vitamin D, lithium, and thiazide diuretics.[2,20] In an effort to increase calciuresis, intravenous volume expansion has proved to be helpful. On the other hand, decreasing calcium bone resorption could be done by administering bisphosphonate, calcitonin, or denosumab. Glucocorticoids could be given to decrease intestinal calcium absorption, and calcitonin could decrease PTH levels.[2,22] Still, routine monitoring of calcium levels must be carried out to watch the development of hypocalcemia.[22] Table 3 provides a general picture of the strategies of hypercalcemia management.[9,19,20]
Treatment
How to administer
Mechanism
Onset
Duration
Hydration with normal saline
2–4 L/days IV
Intravascular volume expansion, increased urine calcium excretion, increased eGFR
Hour(s)
During administration
Diuretics (not recommended for routine administration)
20–40 mg IV after reaching the rehydration state
Increased urine calcium excretion, which inhibits calcium reabsorption on loop of Henle
Hour(s)
During administration
Calcitonin
4–8 Unit/kg every 6–12 hours SC
Inhibits bone resorption with disturb osteoclast function, increased urine calcium excretion
4–6 hours
48 hours
Bisphosphonate

Zoledronic acid

Pamidronate

3–4 mg IV 15–30 minutes

60–90 mg IV 2–6 hours

Inhibits bone resorption with inhibit osteoclast function

24–72 hours

2–4 weeks

Glucocorticoid
Hydrocortisone

200–400 mg/day IV every 3–5 days continue with prednisone 10–20 mg/day for 7 days or

Prednisone 60 mg/day PO for 10 days

Decreased calcium absorption on intestine, decrease in 1,25(OH)2D production on lymphoma patient

2–5 days

Days–weeks

Denosumab
120 mg SC every week for 4 weeks, then every month
Decreased bone resorption with decreased RANKL
4–10 days
4–15 weeks
Calcimimetic
Cinacalcet 60–360 mg PO
Decreased PTH
2–3 days
During administration
Hemodialysis
Calcium dialysate ≤ 1 mmol/l
Low dialysate or without calcium
Hour(s)
During administration
CONCLUSION
Hypercalcemia is one of the most common complications found in malignancies, with prevalence reaching 30%. It is a prognostic marker for malignancies which indicates that the cancer is recurrent or already in an advanced stage. There are four main mechanisms through which hypercalcemia occurs in malignancies: humoral hypercalcemia mediated by PTHrP (80%), local osteolytic metastasis (20%), an increase of extrarenal calcitriol production (1%), and primary or ectopic PTH production (<1%). According to its severity, hypercalcemia is divided into mild (serum calcium levels < 12 mg/dl), moderate (12–14 mg/dl), and severe (>14 mg/dl). Hypercalcemia caused by tumors is generally severe and develops rapidly. The clinical manifestations could affect various systems, for instance, musculoskeletal, gastrointestinal, genitourinary, cardiovascular, and neuropsychiatry.
In general, the management of hypercalcemia is targeted toward the moderate and severe forms. It begins with intravenous saline solution administration as a volume expander, followed by calcitonin and bisphosphonate. Other additional treatments are adjusted according to specific indications. For example, denosumab for hypercalcemia is unresponsive to bisphosphonates and glucocorticoids when there is an increase in calcitriol, calcimimetic as an allosteric modulator of CaSR, and hemodialysis in severe hypercalcemia in which volume expansion is contraindicated. Further studies are needed to understand better various novel treatments for hypercalcemia, like PTHrP antibodies, PTH analog, or PTHrP analog.
Declaration of patients consent
The authors certify that they have obtained all appropriate patient consent.
Financial support and sponsorship
Nil.
Conflicts of interest
There are no conflicts of interest.
Show Sections