Translate this page into:

doi:
10.4103/ASJO.ASJO_75_16
Tumor motion in lung cancers: An overview of four-dimensional radiotherapy treatment of lung cancers
Department of Radiation Oncology, Fortis Memorial Research Institute, Gurgaon, Haryana, India
Address for correspondence: Dr. Anusheel Munshi, Department of Radiation Oncology, Fortis Memorial Research Institute, Gurgaon - 122 002, Haryana, India. anusheel8@gmail.com
Licence
Disclaimer:
This article was originally published by Thieme Medical and Scientific Publishers Private Ltd. and was migrated to Scientific Scholar after the change of Publisher; therefore Scientific Scholar has no control over the quality or content of this article.
Abstract
Most modern radiotherapy centers have adopted contouring based treatment. Sparing of the normal structures has been made more achievable than ever before by use of technologies such as Intensity Modulated Radiotherapy (IMRT) and Image guided radiotherapy (IGRT). However, unlike, sites such as brain or head neck, thorax is a site in active motion, mostly contributed by patient's respiratory movement. 4 D radiotherapy, that addresses the issues of motion in thoracic tumours answers this critical question. The present article outlines the scope of need for 4 D radiotherapy and discusses the options available for 4 D treatments of cancer patients.
Keywords
Four-dimensional treatment
lung cancers
tumor motion
Introduction
Lung cancer is a leading cause of cancer mortality throughout the world.1 Nearly 25% of lung cancer patients are candidates for curative treatment which includes the use of surgery, chemotherapy and radiotherapy (RT) or combination of these modalities.2 Operable lung cancer can be managed with surgery or surgery followed by RT and chemotherapy.3 Patients with locally advanced inoperable disease may achieve long-term survival with curative radiation therapy combined with chemotherapy. Most modern RT centers have adopted contouring-based treatment. Sparing of the normal structures has been made more achievable than ever before by use of technologies such as intensity-modulated RT (IMRT). Advanced image guidance tools ensure that there is concurrence between the planned treatment and the delivered treatment. A recent advance in lung RT is stereotactic conformal RT. In the case of lung cancer, the advantages of high precision and shorter overall treatment duration with this technique have translated into improved control and survival rates as well, compared to conventional RT.4 However, lung motion remains a critical factor in all cases planned for RT to the lung tumor.5,6
Rationale of Four-Dimensional Treatment Strategies
Respiratory motions, in its simplest forms represent a sine wave Figure 1. Physiological respiratory motion of primary lung tumors may reduce the chances of obtaining an optimal local control rate after RT. Respiratory organ motion can cause severe geometrical distortion in free-breathing computed tomography (CT) scanning. Distortions along the axis of motion could either lengthen or shorten the target length depending on the complex interplay of the magnitude and speed of organ motion, gantry rotation speed and pitch, resulting in random variations in the target shape.5 In addition to shape distortion, the center of the imaged target can be displaced by as much as the amplitude of the motion. Tumor motion for lung lesions during a respiratory cycle is well recognized.6 This motion is variable depending on the patient respiratory physiology, tumor size, tumor location, and the immobilization device used.7 Treating using 4D technology can have several benefits which include reduction in planning target volume (PTV) size, ensuring the planned dose and delivered dose concurrence, reduction in normal tissue dose, and the possibility of further dose escalation in some cases.8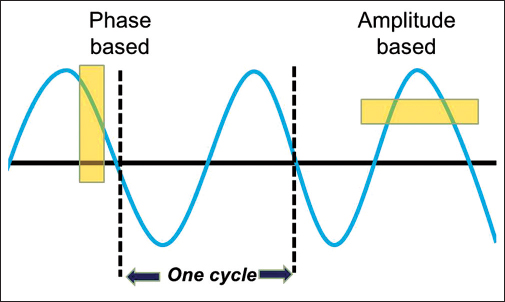 Techniques of Four-Dimensional Scanning
Every 4D treatment delivery technique requires a way of acquiring 4D imaging information appropriate to the selected delivery technique. The 4D scanning methods or the acquisition of 4D imaging data can be classified under two categories: (i) CT scanning that does not require any type of hardware or software changes in the CT scanner and (ii) CT scanning that requires both or at least one of them. To the former type belongs the breath-hold CT scan (voluntary breath hold, active breathing control and combined inhale and exhale gross target volumes to get internal target volume) which does not need any kind of intervention to either the CT's hardware or CT's software. To the other group belongs the slow CT scan (4 s per slice in axial mode), prospective gated CT scan (images at only 1 phase with longer acquisition times that are 4 to 5 times longer than conventional scans), and 4D CT scan (three-dimensional [3D] scans at multiple phases), all of which require some kind of modification to the scanner's hardware or its software or both.9
In one of these methods, called retrospective 4D gated CT, at every position of interest along the patient's long axis, multiple images are obtained spanning the entire breathing cycle. Each image is tagged with the phase information of the breathing cycle it belongs to. Images are sorted retrospectively based on the breathing phase tags leading to many 3D CT sets, each corresponding to a particular breathing phase. Together, they constitute a 4D CT data set that covers the entire breathing cycle. One or more selective 3D CT data sets belonging to consecutive breathing phases can then be combined, averaged, and employed for various treatment techniques that account for respiratory motion.10 In this way, systematic errors can be reduced, and reliable target margins can be defined. This enables avoiding the risk of underdosing due to tumor motion. An added benefit is the reduction in the size of the planning target volume (PTV). Intuitively, this improves the therapeutic ratio by raising the dose to the tumor and decreasing the dose to the surrounding normal tissues.11 In addition, a 4D CT also enables to generate maximum intensity projection images. These images are a summation of the tumor position in all phases of the respiratory cycle.12
Techniques of Four-Dimensional Treatments
Several approaches are available for correcting for tumor motion at the time of treatment potentially leading to better conformality of dose to the target volume. These include synchronizing the beam-on/beam-off time with respiratory motion (gating), holding the patient in a particular phase of breath and treating in that breath-hold phase or targeting the tumor in all the phases of the respiratory cycle (tumor tracking).13,14,15
Pitfalls of Four-Dimensional Techniques
Gating, without precisely knowing where the target is, may produce two kinds of errors (a) false positive in which beam is on at wrong target positions; (b) false-negative errors which mean that the beam is off at right target positions. The false negative reduces the treatment efficiency, while false positive causes underdose to the target and overdose to normal tissue. Further issues with 4D treatments include disparities between the external surrogate and internal tumor position.34 4D technique in general decreases the efficacy of RT delivery. As an example, RT beam spends around 80% of the respiration cycles switched off during gating while multiple breath-holds (with consequently increase overall treatment times) have to be used frequently.35 There is some controversy as to whether the selected phase of respiration should lie in end-inspiration or end-expiration.36 4D CT scan captures only a snapshot of respiration-induced tumor motion.37,38
Selection of Patients for Four-Dimensional Treatment Strategies
In general, 4D treatments are resource intensive at all levels. Besides escalating the cost of treatment, these techniques generally involve increased planning times and daily treatment times. As such, proper patient selection is a must for all 4D treatments. Factors such as patient's disease status, performance status, and tumor motion need to be taken into consideration. In an ideal workflow, all patients likely to benefit from 4D treatment process should be scanned with a 4D CT scan (including a free breathing scan). However, the decision of subjecting the patient to the 4D treatment process should be based on analysis of the 4D scan and other relevant factors. The recommended threshold of tumor motion where 4D treatment technique should be considered include >5 mm38 and >7.5 mm.39 Even after observing these criteria for 4D treatments, it is unlikely that any particular technique shall be ideal for every patient. There could be dosimetric implications of planning in inspiratory versus expiratory phase Table 2.
| Inspiratory phase | Expiratory phase |
| --- | --- |
| Less time spent | More time spent |
| Lung expanded, V20 low | Lung compressed, V20 higher |
| Less density of lung | More density of lung |
Conclusion
Respiratory organ motion can cause significant geometrical distortion in free-breathing CT scanning. Respiratory motion of primary lung tumors may reduce the chances of obtaining an optimal local control rate after RT. Modern day techniques of 4D scanning and treatment allow accounting for tumor motion and have significant potential to increase the therapeutic gain.
Financial support and sponsorship
Nil.
Conflicts of interest
There are no conflicts of interest.
Show Sections