Translate this page into:

doi:
10.1055/s-0041-1731092
A Narrative Review of the Risk Factors for Cancer and the Preventive Opportunities: Current Status, Future Perspectives, and Implications for India
Address for correspondence Vinod K. Ramani, MBBS, MD, MPH, Department of Preventive Oncology, Healthcare Global Enterprise Ltd., K.R. Road, Bangalore 560027, Karnataka, India. drvinod.r@hcgel.com
Spring Hope Cancer Foundation & Young Oncologist Group of Asia. This is an open access article published by Thieme under the terms of the Creative Commons Attribution-NonDerivative-NonCommercial-License, permitting copying and reproduction so long as the original work is given appropriate credit. Contents may not be used for commercial purposes, or adapted, remixed, transformed or built upon. (https://creativecommons.org/licenses/by-nc-nd/4.0/).
Licence
Disclaimer:
This article was originally published by Thieme Medical and Scientific Publishers Pvt. Ltd. and was migrated to Scientific Scholar after the change of Publisher; therefore Scientific Scholar has no control over the quality or content of this article.
Abstract
Introduction Clinical cancer can arise from heterogenous pathways through various genetic mutations. Although we cannot predict the timeline by which an individual will develop cancer, certain risk assessment tools can be used among high-risk groups for focusing the preventive activities. As primary level of cancer prevention, healthy lifestyle approach is being promoted. The etiological factors for lung cancer include by-products of industrialization and air pollution. We need to factor the increase in household air pollution as well.
Methods "PubMed" database and Google search engines were used for searching the relevant articles. Search terms with Boolean operators used include "Cancer prevention," "Missed opportunities in cancer causation," and "incidence of risk factors." This review includes 20 studies and other relevant literature that address the opportunities for cancer prevention.
Body The narrative describes the association between many of the risk factors and development of cancer. This includes tobacco, alcohol, infections, air pollution, physical inactivity, diet, obesity, screening and preventive strategies, chemoprevention, biomarkers of carcinogenesis, and factors that prolong the diagnosis of cancer.
Discussion Reports from basic science research provide evidence on the potential of biologically active food components and pharmacological agents for mitigating the risk of cancer and its progression. However, some reports from observational studies and randomized trials have been inconsistent. We need to recognize the impact of sociodemographic factors such as age, sex, ethnicity, culture, and comorbid illness on preventive interventions. Spiral computed tomographic scan is a robust tool for early detection of lung cancer.
Conclusion Infectious etiology for specific cancers provides opportunities for prevention and treatment. The complex interplay between man and microbial flora needs to be dissected, for understanding the pathogenesis of relevant malignancies. For reducing the morbidity of cancer, we need to focus on prevention as a priority strategy and intervene early during the carcinogenic process.
Keywords
preventive health services
neoplasms by sites
early detection of cancer
exercise
dietary habits
Introduction
Globally, noncommunicable diseases (NCDs) account for 60% of all the deaths. In India, NCDs account for ∼50% of all deaths and cancer accounts for one-fifth of all NCDs.1 Among the cancer morbidity in India, 70% are preventable through modification of the risk factors. This includes 40% due to tobacco, 20% due to infection, and 10% related to others.1 Considering a median life expectancy of 74 years, one in eight men and one in nine women are expected to suffer from cancer.1 Infectious agents tend to cause ∼20% of human cancers and they rank second to tobacco as potentially preventable causes in humans.2
An estimated 12 to 20% of cancers worldwide are due to human tumor viruses. These viruses when compared with others are unusual, because they infect the host cells but do not kill them. Thus, such viruses tend to establish persistent infections. Epstein–Barr virus (EBV) is associated with Burkitt's lymphoma (BL), nasopharyngeal carcinoma, and some forms of Hodgkin's disease. The virus may remain latent in the nasopharyngeal epithelial cells and smoking could possibly reactivate EBV causing nasopharyngeal carcinoma.
Lyratzopoulos et al3 conducted a retrospective case review of cancer cohorts for deriving evidence regarding the missed opportunities for cancer diagnosis. The authors categorize the same in three main phases:
The diagnostic assessment by the physician may result in a safety net/wait and see reasoning and inappropriate interpretation.

Missing out on multiple investigations (often at different times and location) and their associated actions.

The patient may be lost to follow-up or the health system may be unable to "close the loop" due to inadequate diagnostic follow-up and coordination.
With increase in the level of particulate matter (PM) 2.5 in air either due to agricultural or vehicular emission, there exists a concomitant risk of developing lung cancer (group 1,2A). Household combustion of coal causes indoor air pollution that is carcinogenic to humans (group 1). Some of the potentially modifiable risk factors include tobacco and/or alcohol consumption, infections, and dietary factors. Country and geography specific variations are present for these preventable cancers.
When compared with other malignancies such as breast, prostate, and colon, patients with lung cancer often present at an advanced stage where surgical intervention may not be feasible. Few studies report that lung cancer screening using low-dose computed tomography (CT) scans has been effective in reducing mortality by 20%.4 Certain population at high risk for lung cancer, who are defined by their smoking history, previous history of tobacco-induced cancer, family history, and altered pulmonary function should be subjected to such screening interventions.
Methods
"PubMed" database and Google search engines were used for searching the relevant articles. Search terms with Boolean operators used include "Cancer prevention," "Missed opportunities in cancer causation," and "incidence of risk factors." The results of this search yield research articles that contextually provide details of the relevant concepts. The criterion used for reviewing these articles includes their relevance to the defined review question, which are the missed opportunities for cancer prevention and the relevant screening and diagnostic interventions therewith. These studies were reviewed for reference to screening process, laboratory investigations, early diagnosis of cancer symptoms, issues influencing delivery of healthcare systems such as referral pathways, therapeutic regimen, and other relevant concepts. This review includes 20 studies and other relevant literature that address the opportunities for cancer prevention.
Body
Carcinogenesis involves a step-wise accumulation process of genetic and epigenetic changes, which eventually result in a cell of malignant phenotype. This process involves exposure to carcinogen, formation of DNA adducts, inflammatory changes, oxidative stress, mutation, and epigenetic alterations that cause the characteristic pathologic changes in cancer. These pathologic changes include signaling for sustained proliferative growth, evasion of growth suppression, resistance to cell death, immortality of replication, angiogenesis, invasion, metabolism, evasion of host immunity, and reprogramming of energy metabolism. Such changes are a reflection of genomic instability.
Table 1 reproduced from Nair et al4 depicts the common risk factors for cancer and their contribution to cancer mortality. This narrative describes the association between many of these risk factors and the risk of cancer development.
| S. No. | Risk factor | % of cancer deaths in 35–64 years age group (estimate) |
| --- | --- | --- |
| 1 | Tobacco | 30–40 |
| 2 | Alcohol | 3–10 |
| 3 | Diet | Not known |
| 4 | Reproductive and sexual behavior | 10 |
| 5 | Occupation | 6–8 |
| 6 | Pollution | 2 |
| 7 | Industrial products | 1 |
| 8 | Medicines and medical procedures | 1 |
| 9 | Geophysical factors | 3 |
Discussion
In developing countries such as India, the role of cancer as a health problem gains precedence as its incidence increases directly with age, and advances in delivery of healthcare. Physician encounters could miss the opportunity to detect cancer at an early stage due to time pressures, either real or perceived, which might impede a thorough history taking or eliciting clinical signs. Other contributing factors that can impede diagnostic reasoning include language barriers, cognitive biases, and comorbidities.
The Different Types of Cognitive Bias3
Following are the three types of cognitive biases:
Anchoring bias: focusing exclusively on a single item of information.

Availability bias: over-reliance on already known or easily available information.

Commitment to a steer: initial diagnostic impressions.
These biases at the initial framing of the problem could lead to errors at the end of the diagnostic process, including misinterpretation of diagnostic test results. Also, the "epidemiological optimism" bias could adversely influence the diagnosis of cancer among low-risk patient groups such as young individuals and certain sociodemographic groups. Healthcare systems could fail to recognize and act on the abnormal tests related to cancer.
Fig. 2 lists some of the focus areas in cancer prevention which are addressed in the Discussion section.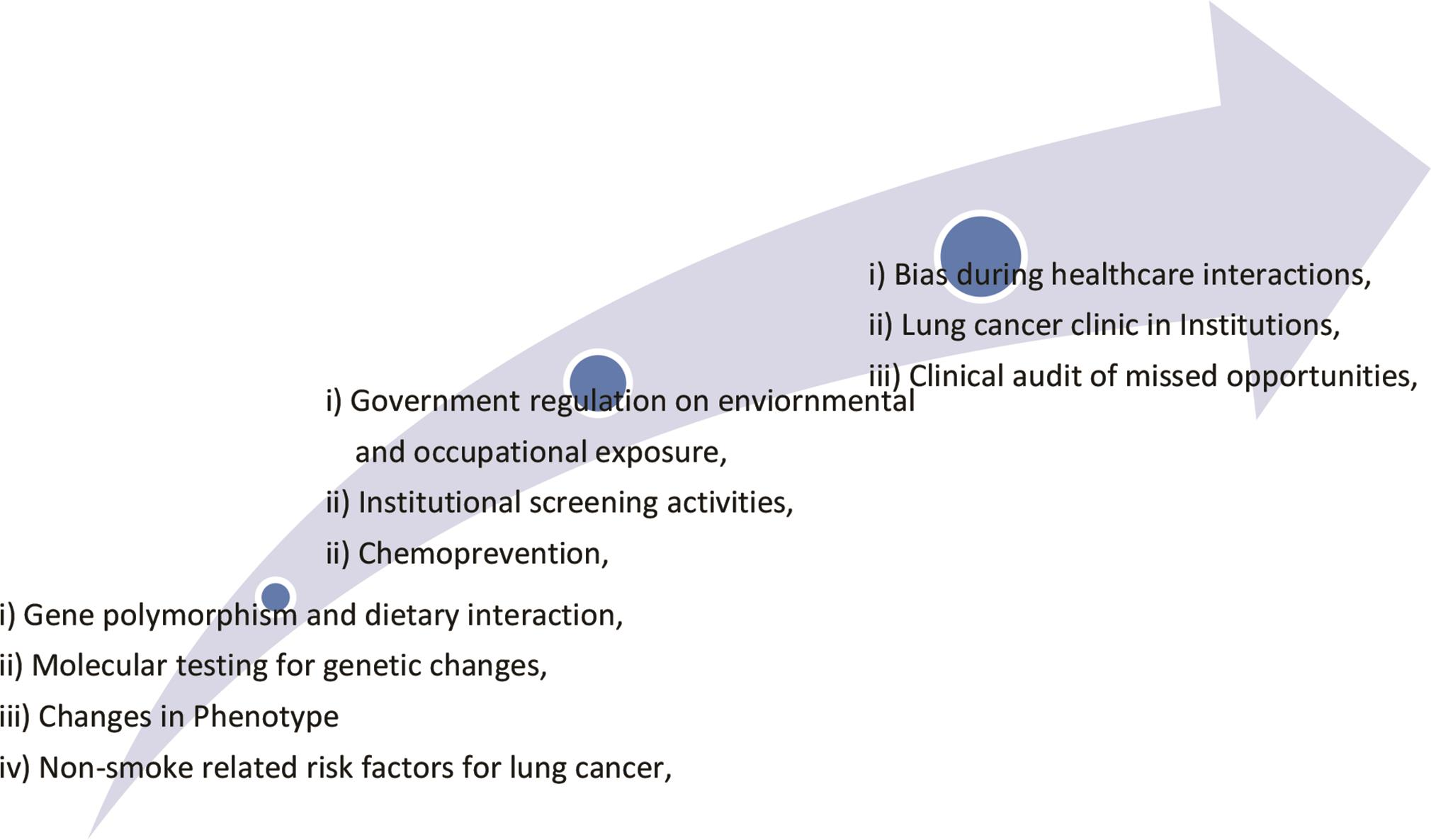 The age group at higher risk for cancer includes older patients who are multimorbid. Among such patients, symptoms compatible with known causes of chronic morbidity could be misinterpreted to reflect preexisting disease rather than a new problem. Patients may not adhere to the investigation plans due to emotional barriers such as fear of procedure-related pain/complications or adverse diagnosis.
Given the resource constraints in India, efforts should be made for cervical cancer screening at least once in the lifetime of a women aged >30 years. Oral cancer screening by trained healthcare workers is another cost-effective screening policy. This is relevant to the Indian context given the habits of tobacco, alcohol, and/or betel nut consumption. Vaccination for HPV (2 doses of quadrivalent vaccine given 6 months apart) among Indian girls could be a sustainable approach.12
A single polymorphism or dietary interaction may have synergistic effect on the overall risk of cancer. We may not be able to predict the type of cancer which an individual is susceptible toward, but risk assessment tools can enable focusing preventive activities for a particular cancer among the high-risk group. An important strategy is to develop accurate models for risk using both environmental and genetic (high-penetrance and low-penetrance alleles) factors.18
Molecular testing of the bronchial mucosa or epithelial cells for the presence of genetic or epigenetic changes could predict the risk of cancer. Chemoprevention agents could be trialed among such patients. Such markers may not be reliable predictors of cancer incidence, and an agent which improves the marker status may not decrease the incidence of cancer ultimately. Lung tumorigenesis could be better understood through advances in genomics, proteomics and molecular imaging studies, apart from the earlier practice of grading the histological changes.26
One of the main factors leading to lung cancer includes pulmonary inflammation. This could be the reason for chemopreventive efficacy of anti-inflammatory agents in murine models.4 The anti-diabetes agent Metformin is also used as a cancer chemopreventive agent. Some mechanisms for the same include decreased levels of insulin and insulin-like growth factor, and energy stress which leads to inhibition of liver kinase B1/AMP (adenosine cyclic monophosphate) activated protein kinase signaling.4 Prostacyclin analogues, specifically iloprost and thiazolidinediones such as Pioglitazone act through the same PPARγ (peroxisome proliferator activated receptor gamma) receptor.
Although government regulations limit workplace and environmental exposure, further research in these areas will enable designing cost-effective lung cancer prevention strategies. Primary prevention efforts need to minimize the physical, chemical, and biological exposures to known carcinogens and for environmental interventions at work settings. The public and private healthcare centers should channelize efforts toward reducing diagnostic delays, which otherwise tend to unnecessarily postpone the diagnosis and management of lung cancer.
The role of estrogen in lung carcinogenesis needs to be further investigated. Lung cancer is being reported even among younger age groups with nontobacco etiology. Studies6 have found increased target mutations in such individuals when compared with smokers. Among nonsmokers, research should focus on environment and occupation-related risk factors attributable to lung cancer. Research could enable evidence-based preventive strategies at the biogenetic level for assessing the genetic and epigenetic interactions with environmental risk factors.
Population as well as institutional programs should screen for cancer of cervix, breast, and mouth, which could be diagnosed early and managed effectively when detected at initial stages. For cancers of the uterine corpus, female breast, testis, and melanoma, appropriate therapy yields a 5-year survival rate of >75%. However, for cancers of pancreas, liver, stomach, and lung, the survival is <15%.5 Thus, a focus on treatment modalities for cancer management may not be an ideal strategy.
In India, there is a delay of 4 to 5 months for many patients from the time of diagnosis till they undergo treatment with chemotherapy. Developing a lung cancer clinic in hospital settings will enable the appropriate diagnosis and treatment of lung cancer. Supportive supervision of physicians will enable the practice of a high index of suspicion among at-risk individuals. The residual risk of developing lung cancer is significant among former smokers. Chemoprevention could be effective, particularly among former smokers, as they target premalignant lesions. Biomarkers that respond to these agents need to be validated. Although various leads are given through observational studies, no definitive preventive agent has been shown to be efficacious for lung cancer. Some of these agents include inhaled glucocorticoids, myoinositol, prostacyclin analogues, and thiazolidinediones. At present, smoking cessation seems to be the only preventive intervention for reducing the risk of lung cancer.
Chemoprevention agents should ideally target phenotypes expressing carcinogenic influences such as inflammation, angiogenesis, hypoxia, and epithelial differentiation, then to specific driver mutations. A definitive challenge in chemoprevention is to target the specific mutations of the molecule. Another advancing domain in the field of preventing lung cancer includes validating biomarkers of risk and response. Chemoprevention should be directed based on specific signatures (gene expression, proteomics, etc.) present in biopsy specimens from high-risk individuals.7
Clinical audit activity and case reviews need to be triggered by the presence of surrogate markers of missed opportunities. Such markers could include unusual patterns of multiple consultations (return visits), symptoms, or abnormal test findings suggesting the need for diagnostic evaluation of cancer and emergency presentations. Physicians should also take lead in retrospective reviews of randomly selected cancer cases over a defined period. However, audit of patient records includes potential for hindsight bias, missing documentation, and time needed for review process.
Conclusion
Identification of infectious etiology for specific cancers provides opportunities for preventing cancers by controlling the infections. This involves implementing public health measures or changes in cultural practices. As new infectious causes of malignancy are discovered, it is imperative to dissect the complex interplay between man and microbial flora to understand the pathogenesis of many malignancies. We need to follow screening guidelines and vaccination strategies for preventing cancers.
Consumption of deep fried and spicy food in the Indian diet contributes to the increasing burden of obesity, coupled with propensity of our community toward physical inactivity. Prevention efforts should include awareness and supportive initiatives for adopting a healthy lifestyle, which in turn can reduce the community's exposure to behavioral and dietary cancer risk factors. These should focus on quitting smoking, maintaining a healthy BMI, reducing alcohol consumption, exercise promotion, and consuming a healthy diet rich in fruits and vegetables. Further gains are possible by minimizing exposure to radiation (both natural and man-made), pollutants, and occupational chemicals, and vaccination against HPV and HBV.
The diagnosis of cancer involves interaction among multiple human and system components. Multidisciplinary approaches to prevent missed opportunities for cancer diagnosis should account for concepts such as shared mental models, optimal use of technology, and distributed cognition. Public health measures that are devised to tackle the burden of NCDs should adopt a consolidated approach for eliminating the shared environmental factors and social determinants driving this epidemic. Government interventions need to be supplemented by collaborative initiatives with the civil society and nongovernmental organizations.
Conflict of Interest
None declared.
Show Sections